Does Antibacterial Soap Make Your Home Cleaner?
A 2005 FDA advisory committee found no benefit to antibacterial over regular soap for killing disease-causing germs, beside that, they damage the environment placing our long-term health at risk. Keeping your home clean doesn't mean you have to use these products.
The effect
A group that analyzed several studies comparing people who washed their hands with regular or antibacterial soap found out that in almost all trials, there was no difference between groups, either in bacteria on the hands or in rates of illness. In a single study, people who used antibacterial soap did have fewer bacteria on their hands, but only if they washed for 30 seconds, 18 times a day, for five days straight.
Antibacterial soap prevent illness in health care settings, where patients are more vulnerable to germs because the antibacterial ingredients in hospital-strength soaps are up to 10 times the concentration of store-bought soap. Also, antibacterial ingredients don't kill viruses, which cause the vast majority of minor illnesses.
The hazard
Increasing bacterial resistance Triclosan can enter the bloodstream through the skin, the mucous membranes in the mouth, or the intestines. Experimental studies show that triclosan can cause bacteria to become resistant to antibiotics in test tubes. So far, no one knows whether that leads to the same result in hospitals or homes. A recent research "showed a trend toward more resistant bacteria" on peoples' hands after one year of using antibacterial soap.
Harming the environment Antibacterial soap's potential to harm people may be controversial, but its growing environmental impact is widely acknowledged. Several million pounds of triclosan and triclocarban (an antibacterial chemical in bar soap) are produced annually. Much of it is flushed or rinsed down drainpipes. They end up in surface waters, frequently at concentrations that are toxic to aquatic life.
The alternative
Wash your hands thoroughly and frequently. It's not the type of soap that prevents the spread of bacteria and viruses; it's how you wash your hands. Rub hands together vigorously for 20 seconds. Don't forget the spaces between your fingers, your wrists, and under your nails. Rinse thoroughly. Dry hands well and launder hand towels often in hot water

.

Choose a nontoxic cleaner: Shop for cleaners that don't contain triclosan or triclocarbon. Skip these ingredients too: chlorine, lye, glycol ethers, and ammonia. You don't need them to get surfaces clean

.

Disinfect sponges and rags: Microwave for 30 seconds if dry, longer if wet

.

Disinfect objects that come into contact with raw meat, fish, such as cutting boards and utensils: use a dishwasher and be sure it reaches 77 degrees C, and choose an environmentally friendly detergent. Spray cutting boards and counters with a non-toxic disinfectant like the one mentioned below

.
All-purpose non-toxic disinfectant:
1 teaspoon borax
2 tablespoons white vinegar
2 cups hot water
1/4 teaspoon lavender essential oil
3 drops tea tree essential oil
Mix all ingredients together and stir until dry ingredients dissolve. Pour into spray bottle for long-term storage and use. Spray as needed on any surface except glass. Scrub and rinse with a clean, damp cloth.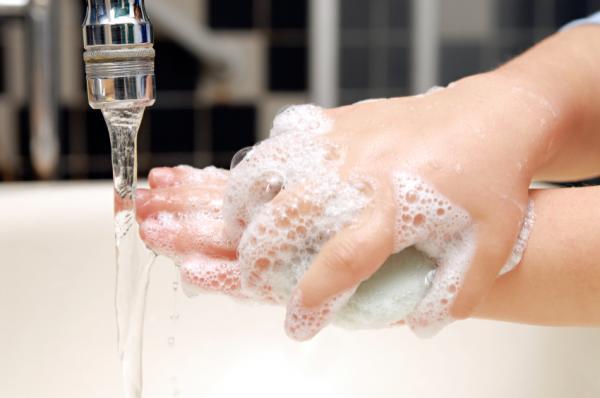 Your Baby checkup
Is my child developing normally?
what are the vaccinations that he should have taken until now?
Generate a report for my baby.
Birthdate *
Track Your Baby Vaccinations
Receive reminders by email for the Vaccination timing
Find Your Baby name
Mohandessin
21 Batal Ahmed Abdel Aziz St, 3rd floor
Telephones
01002195777
01000012400
0233048350
Beverly Hills
Beverly Hills, Building 29 services, behind Super Market Al Mokhtar, floor 1.
Telephones
El Tagamo3
Tagamo3, Silver star mall, first floor,
Telephones
Al Sheikh Zayed
Al Sheikh Zayed - Entrance 2,Downtown Mall - In-front of Spectra ,First Floor - Clinic 113
Telephones