Conjunctivitis - Pink Eye
What is it?
It is an inflammation of the mucous membrane on the inner side of the eyelids.
How serious is it?
Usually, pinkeye is a self-limited disease. Though the inflammation of pink eye can be irritating, it rarely affects vision. But because pink eye can be contagious, early diagnosis and treatment is best to help limit its spread. Pinkeye in newborn babies, however, should be reported to a doctor immediately as it needs treatment without delay to preserve sight.
What causes it?
Pinkeye has a number of different causes, including:
Viruses
Bacteria
Irritants such as shampoos, dirt, smoke, and pool chlorine
Allergies, like dust, pollen, or a special type of allergy that affects some contact lens wearers
What does it look like?
The most common pink eye symptoms include:
Redness in one or both eyes
Itchiness in one or both eyes
A burning feeling in one or both eyes
A discharge in one or both eyes that forms a crust during the night
Tearing
How will it be treated?
1. Medications
The treatment for pinkeye depends on the cause.
Bacteria. Pinkeye caused by bacteria is treated with antibiotics, in the form of eye drops or ointments. Eye drops or ointments may need to be applied to the inside of the eyelid three to four times a day for five to seven days.
Viruses. This type of pinkeye often results from the viruses that cause a common cold. It usually lasts from four to seven days. Viral conjunctivitis can be highly contagious.
Allergies. Allergy-associated conjunctivitis should improve once the allergy is treated and the allergen removed.
Two adults may be needed to administer the drops; one to hold the eye open and reassure the child while the other adult actually puts the drops in the eye.
2. Other home remedies
Apply a compress to your eyes. A cool water compress may help relieve allergic conjunctivitis. If you have bacterial or viral conjunctivitis, you may prefer a warm compress. If pink eye affects only one eye, don't touch both eyes with the same cloth.
Over-the-counter eyedrops called artificial tears may relieve symptoms. Do not use the same bottle of drops in an uninfected eye.
Protect your eyes from dirt and other irritating substances.
For teens: Avoid the use of makeup and remove contact lenses, if you wear them.

How do I prevent spreading the disease?

Don't touch or rub the infected eye(s).
Wash your hands and your children's hands often with soap and warm water.
Wash any discharge from the eyes several times a day using a fresh cotton ball or paper towel. Afterwards, discard the cotton ball or paper towel and wash your hands.
Use a clean towel and washcloth daily.
Don't share towels or washcloths, eye cosmetics or personal eye-care items
Wash bed linens and towels in hot water and detergent. Change pillowcases often.
Wash your hands after applying the eye drops or ointment to your eye or your child's eye.
For teens: Don't share eye makeup with anyone. Throw away your eye cosmetics, such as mascara. Never wear another person's contact lenses. Wear eyeglasses instead of contact lenses. Throw away disposable lenses or be sure to clean extended wear lenses.

For how long will my child stay from school?

Although pink eye symptoms may resolve in three or four days, children with viral conjunctivitis may be contagious for a week or more. Children may return to school when they no longer experience tearing and entangled eyes.
If your child has bacterial conjunctivitis, keep him or her away from school until after treatment is started. Most schools and child care facilities require that your child wait at least 24 hours after starting treatment before returning to school or child care. Check with your doctor before sending your child back to school or child care.
Sources 1.http://www.mayoclinic.com/health/pink-eye
2.http://www.webmd.com/eye-health/eye-health-conjunctivitis
3.http://www.healthychildren.org/English/health-issues/conditions/eyes/pages/Conjunctivitis-Pink-Eye.aspx?nfstatus=401&nftoken=00000000-0000-0000-0000-000000000000&nfstatusdescription=ERROR%3a+No+local+token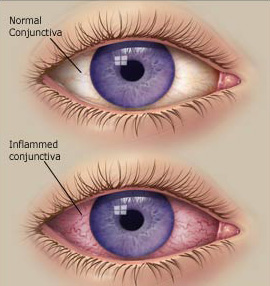 Your Baby checkup
Is my child developing normally?
what are the vaccinations that he should have taken until now?
Generate a report for my baby.
Birthdate *
Track Your Baby Vaccinations
Receive reminders by email for the Vaccination timing
Find Your Baby name
Mohandessin
21 Batal Ahmed Abdel Aziz St, 3rd floor
Telephones
01002195777
01000012400
0233048350
Beverly Hills
Beverly Hills, Building 29 services, behind Super Market Al Mokhtar, floor 1.
Telephones
El Tagamo3
Tagamo3, Silver star mall, first floor,
Telephones
Al Sheikh Zayed
Al Sheikh Zayed - Entrance 2,Downtown Mall - In-front of Spectra ,First Floor - Clinic 113
Telephones