What is carotenemia?
Carotenemia is a medical term for a condition that causes the skin to turn orange-ish due to increased blood carotene levels. In the vast majority of cases seen, it is associated with large consumption of carotene in the diet; as in too many carrots or sweet potatoes. Parents who feed their infants a lot of orange fruits and vegetables may one day notice that their infant's palms, soles of the feet and even face have taken on an orange hue.
Which foods contain beta-carotene?
Fruits and vegetables that are high in beta-carotene are usually those that are yellow/orange or have dark green leafy vegetables. These include:
Carrots
Pumpkin
Kumera
Spinach
Papaya
Corn
Breastfeeding babies can also develop the condition if their mother is eating a lot of beta-carotene rich foods.
Treatment of carotenemia
No specific treatment of carotenemia is necessary. By simply encouraging your child to eat a wider variety of foods, the level of beta-carotene in the body will reduce and the skin discoloration will gradually fade.
When should I call my child's healthcare provider?
If your child has vomited any blood.
If your child is confused or difficult to awaken.
If your child is acting very sick.
If your child develops yellowish eyes.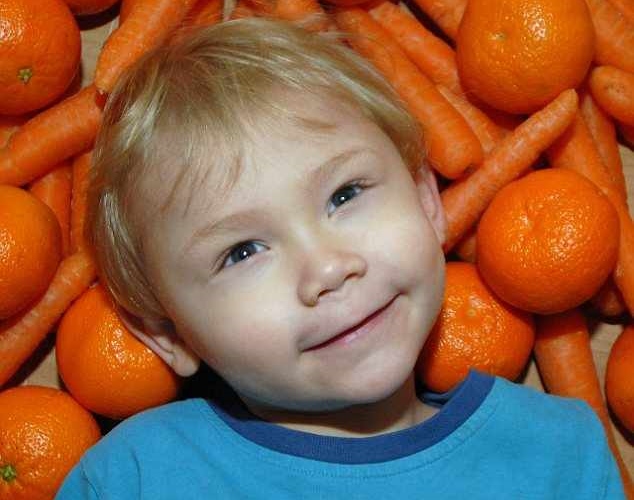 Your Baby checkup
Is my child developing normally?
what are the vaccinations that he should have taken until now?
Generate a report for my baby.
Birthdate *
Track Your Baby Vaccinations
Receive reminders by email for the Vaccination timing
Find Your Baby name
Mohandessin
21 Batal Ahmed Abdel Aziz St, 3rd floor
Telephones
01002195777
01000012400
0233048350
Beverly Hills
Beverly Hills, Building 29 services, behind Super Market Al Mokhtar, floor 1.
Telephones
El Tagamo3
Tagamo3, Silver star mall, first floor,
Telephones
Al Sheikh Zayed
Al Sheikh Zayed - Entrance 2,Downtown Mall - In-front of Spectra ,First Floor - Clinic 113
Telephones