Study: Spoon-Fed Babies at Higher Risk for Obesity
Feb 2012 -- Researchers at the University of Nottingham England determined that babies who were spoon-fed purees were more likely to prefer sweets as they got older, as opposed to babies who fed themselves finger foods.
A total of 155 children were studied, ages ranging from 20 months to six and a half-years-old. Those who were spoon-fed tended to be overweight as children, while the babies whose parents weaned them gradually preferred healthier meals and were able to maintain normal weights.
So maybe we should let our little kids get disorganized and feed themselves.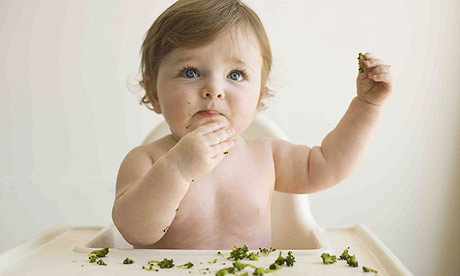 Your Baby checkup
Is my child developing normally?
what are the vaccinations that he should have taken until now?
Generate a report for my baby.
Birthdate *
Track Your Baby Vaccinations
Receive reminders by email for the Vaccination timing
Find Your Baby name
Mohandessin
21 Batal Ahmed Abdel Aziz St, 3rd floor
Telephones
01002195777
01000012400
0233048350
Beverly Hills
Beverly Hills, Building 29 services, behind Super Market Al Mokhtar, floor 1.
Telephones
El Tagamo3
Tagamo3, Silver star mall, first floor,
Telephones
Al Sheikh Zayed
Al Sheikh Zayed - Entrance 2,Downtown Mall - In-front of Spectra ,First Floor - Clinic 113
Telephones